A fun holiday from 05 to 09 July 2021
During this week KIDOLOISIRS offers you a leisure program for your children.
Why ?
To welcome children by offering them a balanced program combining leisure, fun, discoveries, cultural and educational activities in English and French.
To allow parents to have a moment of respite while their children are welcomed in good conditions.
To allow children to continue learning while on vacation.
To give everyone an opportunity to live, go out, breathe and forget the horrors of confinement.
For what purpose?
Propose during the week of Monday 5 to Friday 9 July full days of leisure activities aimed at intelligently occupying children and strengthening their skills, especially in the acquisition of new knowledge: explore, discover, manipulate, observe and respect others in English and French.
Offer shared collective action times to reconnect social ties and maintain attachment.
Strengthen the link with families.
Programme of activities
Kidoloisirs' program is unique. Every day, your child discovers a new cycle of activities that is totally different from the day before and the next day. All our actions are done with external partners known and recognized for the high quality of their service.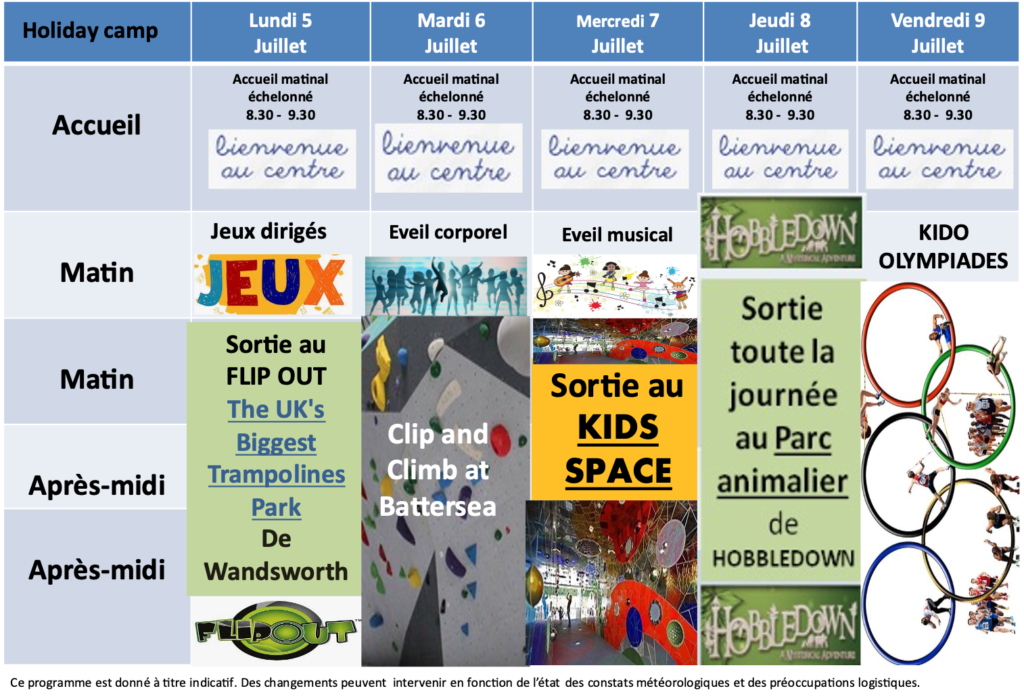 Period : from Monday 5 to Friday 9 July 2021 (5 days)
Time : From 08.30 am to 5.00 pm
Location : Reception area very close to the Wix school
Students concerned : This "Summer Holiday Camp" program is open to children in the following classes:
Bubble 1 : MSA
Bubble 2 : GSA
Bubble 4 : CE1A, CM1A
Bubble 5 : CPA, CE2A
Bubble 6 : CM2A
Note: Only french classes are covered by these activities.
Cost per student:
£60 for a day of activity.
£55 per day (If registration for the whole week)
Fragmented registrations for one or a few days are accepted. Families can enroll their child in all or part of the program.
How to register?
to register your child, please select "Summer Holiday Camp registration" from the Clubs Registration menu.